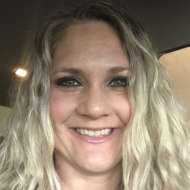 This user account status is Approved
Cheree is a Certified Thermographer that provides safe, painless, thermal body images to reveal the root causes of health conditions and to guide individuals to better health.
In 2010 Cheree Vasquez graduated from Alaska Career College in 2010 as class valedictorian while earning her credentials as a Nationally Certified Medical Assistant (NCMA). As a NCMA, Cheree has experience in areas such as primary care, occupational health, and emergency department care. 
In 2012, Cheree continued her education at the Institute of Integrative Nutrition, where she was certified as a Health Coach (CHC). During her training, she studied over 100 dietary theories, practical lifestyle management techniques, and innovative coaching methods with top health and wellness experts.
After 8 yrs of medical assisting and 4 yrs of health coaching, Cheree decided to pursue her interest in Thermography. She learned about thermography when she lived in Alaska some years ago from an Integrative Physician. She was instantly intrigued and learned the many benefits of thermography such as early detection of many common health conditions. Fast forward 15 yrs later, Cheree took the first steps of becoming a thermographer by attending training in Florida and successfully obtaining her certification. She opened her doors in October 2019 and has already scanned 50+ people. Cheree has seen firsthand how amazing the technology is and the people it can help. She has found her "dream career" and is very grateful to serve her community.
Cheree is happily married and has two teenage sons that are very talented musicians. She spends her spare time attending band and symphony concerts, competition marching band shows, football games and her son's swimming events. She is an avid animal lover, and also enjoys hiking, camping, reading, volunteering, and DIY home projects.