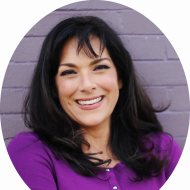 This user account status is Approved
Lose the Diet and Gain the Health and Body You Deserve!
We all know that your greatest asset is your health.
But getting healthy and losing weight can be confusing and frustrating. Your time, effort, and resources are limited--you want to make sure what you do works!
Treva Garcia is a highly-trained master health and weight loss coach who helps busy people finally succeed at health and weight loss.
Treva believes that everyone deserves an energetic, healthy body and healthy weight. The answer to reaching your health and weight loss goals is personalized health habits that fit just right. 
Treva has helped hundreds of people create enjoyable and sustainable health habits based on their own body, lifestyle, and preferences.  She then coaches her clients until the habits are on auto-pilot—no willpower needed.
Treva is a registered dietitian/ nutritionist, ACE certified health coach, and ACSM certified personal trainer. 
Treva has a BS in Dietetics from Brigham Young University and has been helping people become healthy for over 20 years.